Past Projects
How it began
This whole camel story started when my then 22-year-old brother Greg decided to head to Alice Springs in 1971 to catch and bring back some wild donkeys that were at the time fairly healthy and quite widespread in that part of the world.
On his hitchhiking trip to Alice Springs, Noel Fullerton picked him up in his old profession as a truck driver. From there, Greg went to Alice, found his donkeys and his horses and fell into the world of camels. They were the early days of the modern camel movement - the old school of camel handlers was all but gone.
Not much was around in those days for camels, but he spent two years in the area of learning and gathering his stock for the long 1600-mile walk back to Gulong in NSW.
Nugget and Jimmy from Hermannsburg Community in the NT joined him for the 6-month trek and with them, they bought 16 horses, 30 donkeys and 5 camels.
I spent a few months with Greg and it is the two of us together in the photo somewhere near the highway between Broken Hill and Wilcannia.
Greg, not long after this photo was taken, passed away with Leukaemia and looking at the photo brings strong memories from another world. One of my favourites...
back to top ↑
1977 Burke & Wills
When I was 19, I retraced the ill-fated steps of Burke and Wills with Tom Bergin, Nugget and Frankie. It was a 1500km trek from the Dig Tree near Innamincka in the southwest corner of Queensland to Karumba in the Gulf of Carpentaria at the top of Queensland.
The journey took 3 months and, as this was my first major trek, it was to be a steep learning curve. Through some pretty tough country, not much camel knowledge especially for a trip such as this, it had its moments when you thought "what the bloody hell I am doing here".
We were meant to go to the Gulf and back, 3000km in under three months to prove what Burke had said to be possible. "Wait three months and then return down the line".
But it proved a bit tougher then we predicted. On arrival at the Gulf, the trip disbanded.
Tom flew back to Sydney and I took Nugget and Frankie back to Alice Springs, then returned to Karumba to walk the camels another 600km to Townsville on the coast.
The ABC made their 200th Big Country called The "Bergin/McHugh" Expedition and a book was also released called "In the Steps of Burke and Wills" by Tom Bergin. The National Geographic Magazine covered the event as well. Readers Digest later released Tom's version of the book in their branding.
It is inspiring and eye-opening to wander along the route. Looking at the land and just where they went, you quickly get a pretty good grip on just how incredibly difficult it would have been.
In 2007, I will once again be following the route of Burke & Wills and looking at all aspects of the ill-fated journey. You can either tag along in your own vehicle or let us take care of the whole thing. ... more >>>
back to top ↑
1988 Bicentennial Camel Race
In 1988, Australia's Bicentennial year, there was a 3300 km camel endurance race from Uluru in the Northern Territory to the Gold Coast in Queensland. Some 69 camels entered this arduous event, with only 24 finishing.
I entered a team of five, and out of our five, three completed the race. It was an extremely hardcore race. In one section alone, I completed 190 km in 25 hours. Endless problems and dramas unfolded over the three months of the race.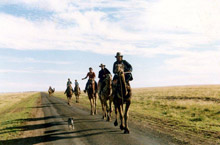 In our team, there were five competitors and five backup crew, but it seemed that we used to swell in size as we moved along and it was nothing for us to feed 25 people and 12 camels in this travelling roadshow.
The feats of endurance were second to none. The odd punch, confusion, flies, sleep deprivation, camels going mad, an occasional life-threatening disease, romances born every day and hundreds of miles run, walked, ridden and sometimes even crawled.
You pushed yourself to the edge and then a bit!
A two-hour documentary was made by Orana Films, which earned the cameraman the award of the Golden Tripod for documentaries in this country. It was a remarkable story and one that I will not forget.
1995 Down the Darling River by Camels
In 1995, we completed a scientific and recreational trek down the full length of the Darling River from Burke, in the north of the state of NSW, to the border of Victoria and NSW, where the Darling joins the Murray at the township of Wentworth. It was some 800km long and took 7 weeks to complete. The group included two scientists who carried out a whole range of experiments looking at the problems of this complex river system. Each night, we would have guest speakers in our camp telling us their life stories or their thoughts and ideas on just what the problem of the river was.
We had 12 people, ten camels and a wagon.

The pace was very laid back. Although we did have our share of incidents and a couple of accidents, we all survived.
Towards the end of the trip, when all camels and people were relaxed and the animals found their way along ok, we would sometimes find ten people sitting rather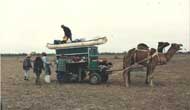 cramped on top of the wagon, telling stories and having a beer, with the ten camels tied on behind.
It was a fascinating trip with lots of bonfire magic, incidents and accidents and the odd rum drunk on the colder evenings. The Darling river is a journey in itself, but to camp alongside its banks every night for 7 weeks was a great joy.
back to top ↑
1997 Established the "Boulia Desert Sands"
After selling potential racing camels to the United Arab Emirates and traveling there to watch and learn about their camel racing industry, I came back to Australia with the idea of attempting to steer camel racing towards a more serious sport. To start a professional camel racing industry in this country. Hence the birth of the "Boulia Desert Sands".
We changed the predominately tourism-oriented camel races to a full-blown professional affair. The distance of the races was lengthened, drug testing and microchipping of the camels was put in place and an act of parliament for the first time allowed legal bookmakers at camel races in Australia.
We also for the first time introduced substantial prize money with $30,000 being put up for the event. The concept behind the change was to make camel racing professional with the hope of one day being able to sell real racing camels back to the UAE.
One year, there were nearly 100 registered racing camels at the event with 3000 plus spectators. Boulia, which normally has a peak population on a good day of 300, was overflowing at the seams.
It won the prestigious Outback Queensland tourism award for the best Event in 1998 and has received many accolades for its contribution both financially and socially within the outback region.
back to top ↑
2001 A Journey Across the Country
This is a trek that was planned as a celebration of Australia's "Centenary of Federation".
It was a trek that would recognise the Outback and Cobb & Co's contribution to the development of this country, it was also an event that many people could take part in and share in the spirit and the atmosphere of the journey.
Travelling from Winton to Boulia in Western Queensland some 360km, were 100 camels, 30 or so horses, a dozen wagons and nearly 200 people. After 16 days of riding, walking and partying along the way, they arrived in Boulia for the Boulia Desert Sands Camel Racing Festival.
Starting in Winton with the Australian Poetry Championships and yarn-telling festival, then proceeding to a formal ball at Middleton and finishing with the Camel Racing Festival in Boulia this event brought many hundreds of people together in celebration of our unique history.
A coffee-table book titled The Nine Pillars of Cobb & Co was produced and a 1-hour documentary was privately made called Trek: An Australian Camel Odyssey.
back to top ↑
2002 The Harry Redford Cattle Drive
After the success of many Outback events and treks, the Aramac Shire Council approached me to run their event "The Harry Redford Droving trip" for their contribution to Australia's Year of the Outback celebrations. This was a three-month droving trip through the heart of the Queensland's outback.
It was to be Queensland's main event for the "Year of the Outback".
Some 600 cattle, 60 horses, 200 people and 15 different communities later, we finished at Roma in central western Queensland. With three months of parties and festivals in every town, cattle this way and horses that, there was never a dull moment in the droving camp on the road.
It was a huge success with people coming from all over the world to take part. This was the heart and soul of the true Australian Outback. It still lives on as a smaller but yearly event in the Aramac Shire.
back to top ↑
Skydiving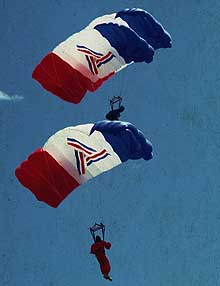 Canadian world cup in 1983
Diving over Sydney
At the age of 17, I started skydiving in Townsville and by 19, I was the youngest person to gain their instructor rating in Australia.
At the age of 21, I was a member of the Australian 8-way team that competed in the World Meet in France.
From here, I travelled the world and lived and breathed the sport.
I represented Australia twice at international competitions and was the Australian Team Leader at the Canadian World Cup in 1983.
My involvement in the sport was extensive. Not just competing and instructing, I also worked extensively with air-to-air photography and designed and built a state-of-the-art ground-to-air video system. I was a member of the Board of Directors for the Australian Parachute Federation and the Director of Coaching for the South Queensland Parachute Council.
I was a member of various skydiving display teams, jumping into such events as football grand finals and rock concerts and was a member of a nine-man team that jumped into the closing ceremony of the Brisbane Commonwealth games.
I completed some 3,500 jumps in a 13-year period.
Simpson Desert Walks
I have now walked across the famous French Line six times from Dalhousie to Big Red. It's a great walk - a walk in the park we tell people - that we do fairly comfortably in 17 days, covering 400km, 1100 sand dunes, the odd dust storm and three or five blisters. Birdsville by the slow back door.
There are times when the people who come on these expeditions start to question what they are doing it all for. It can be a bit of a tough ask from time to time, but it is a sense of achievement, pushing yourself and being able to come out as a winner, sitting on top of the Big Red sand dune at the ende of the journey and looking west across all those sand tops we have just walked over. It's a nice, warm, fuzzy feeling.
I have done it a couple of times with camels and it is far easier and much more enjoyable to just walk with a four-wheel drive as your backup.
I have also walked down the eastern side of the Simpson and in the 1988 camel race, we went along the top of the Simpson as well.
The desert is a wonderful place, so wild but safe, so inspiring but scary, so unforgiving when things go bad!
back to top ↑